It's started…interrupted sleep due to thoughts of all there is to do to get the school ready for a great learning year! I love the excitement and preparation that goes into getting ready to welcome everyone back to Georgetown.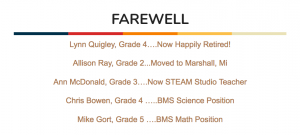 Mr. Rob (our custodian) and his staff have once again done an outstanding job cleaning lockers, classrooms, floors and more to prepare for the year ahead. Our building sparkles like new on the inside and outside, thanks to his tender loving care.
The classrooms are nearly ready…teachers working from early in the morning until late at night preparing tables, folders, books and other curriculum related materials. Each teacher is doing all s/he can to prepare a welcoming learning environment that supports all learners.
This summer, we have had many changes in staff at Georgetown… five left for other adventures, several have switched grades to have a new adventure within the school and we are welcoming a few new staff members to our team.
I have highlighted some of the changes throughout this post. Me…I love change and the energy it brings to our building. I am very excited to get the year stared.
OPEN HOUSES are as follows:
Kindergarten August 23, Wednesday from 6:30-7:30 pm.
Grade 1-5 August 24, Thursday from 6:30-7:30
FIRST DAY OF SCHOOL: August 29, 2017 8:45 am-3:45 pm.
See you very soon!
Mrs. Reagan and Staff