Happy New Year! Blog Bits 1/12/2018
News from the Office…
Happy New Year to all of you! We hope you were able to enjoy some time with family and friends and get caught up! We certainly enjoyed our time and now are ready to get back into the swing of it. We jumped right back into our learning routines and the kids are doing great!
As you fill out your new 2018 calendars, we wanted to send out a copy of the school calendar for you to put the early release days and breaks on it.  17-18-Student.pdf or click here for link.
Just a reminder that with the cold temps, please send your kids ready to go outside. We watch the temps throughout the day and get them out to play when we can. Please send them prepared to go outside with their boots, coats, hats, gloves, etc. We greatly appreciate it!
Have a great weekend!
Next Early Release and Winter Break…
The next early release in on Feb. 2. The students will be dismissed at 12:15. We also have Winter Break the following Monday and Tuesday on Feb. 5 and 6.
PTC News…
Jan 19 – Popcorn Friday
Jan 25 – PTC meeting in the library here at school!
Feb 8 – Jet's Pizza Night
Kindergarten Registration/Round Up Night…

The district's PK•Kindergarten Enrollment Meeting will be on 2/1/18  at 7 pm in all buildings.  Georgetown's session will be in the Multi-Purpose Room/Cafeteria.  If you are unsure which school your child will attend next year, contact Robin Vandenberg in the HPS District Office:  rvandenb@hpseagles.net or 616-669-1740 x1
This meeting is for parents only and will run from 7-7:30pm.
If you cannot attend, visit the tab above and print off the registration, look over the information and drop off your materials in the school office M-F from 9-3 pm. You can also find the materials here:
Reminder:  Please have the following on hand when you turn in registration materials.  We will make copies at school:
Child's original birth certificate
Utility Bill
Driver's License for one parent
*If you are unsure of whether you want PK or K and you want your child screened, please call the office and we can set that up for you. Also, if your child's birthdate falls in between Sept 2 and Dec 1 (the waiver period), we need to set up a screening no matter if you want PK or K. Our number is 797-9797.
Early Childhood Programs Information/Registration Night…
Information/Registration Night for the 2018/2019 School Year and 2018 Summer Programs.
Tuesday, January 23,  2018 at the Early Childhood Center :5535 School Ave. 6:00 pm to 8:00 pm
Programs include: 3 and 4 your old Preschool, Young Fives, Before/After school care, and Summer care.
*This is a chance to gather information about the programs, meet staff, and visit the preschool classrooms. There is no formal presentation; feel free to come anytime between 6:00 and 8:00. Children are welcome and activities will be provided.
Registration forms accepted that evening with a $40.00 non-refundable depsit fee child and $100.00 non-refundable deposit per family. Enrollment fills quickly.
For more information, please call the Early Childhood office at 616-797-0842, ext. 1

PE News…
Once again the Elementary P.E. Department will be selling Hudsonville Physical Education Apparel.  Please look for the information to be coming home this Friday.
Orders are due by January 30.  
Click on the link to see what selections are available this year.   You can also print this form if you need an extra one
2018 PE APPAREL ORDER FORM COLOR-03 (1)-1rbwege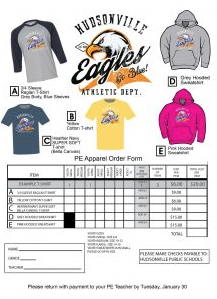 Community News…
•The Hudsonville Athletic Boosters are presenting the GMB/ Eagle 5k " Brian Carlson Memorial Run" on March 24, 2018 at 9am. The event will take place at Hudsonville High School with the route running through the city of Hudsonville. Each year, the Hudsonville Athletic Boosters seeks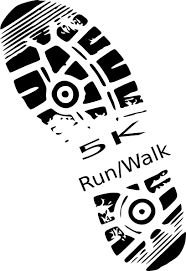 to supplement the athletics program with thousands of dollars through various fundraising activities, including the GMB Eagle 5K, whose proceeds will go to athletic scholarships. As an organization, we give ten $1000 scholarships a year to outstanding student-athletes who are pursuing a college education.
.. Be sure to sign up on line at www.classicrace.com or  visit our website www.hudsonville5k.com for more information and registration. Online registration only. Packet pickup and late registration will be at Harvest Health March 23 from 4-6pm and Race day morning from 7am to 8:50am. Be sure to check out and LIKE our Facebook page (GMB Eagle 5k race) also for all updates.  All runners will receive lots of post-race refreshments.

•Hudsonville Little League Registrations are now open!
Deadline is 
January 14
 for most divisions.  More information and online registration is available at 
www.HudsonvilleLittleLeague.com
To play in Hudsonville LL you must have a legal guardian within residence in our boundaries, or attend a school within our boundaries (additional waivers may apply).
All students attending Park, South, Jamestown, and Forest Grove Elementary Schools, Hudsonville Early Childhood Center, Riley St. MS, and Hudsonville HS are eligible.
•Strengthening Families Program
Attention, families with 10-14 year-olds! Practice being a strong family. Strengthen relationships and build communication during pre-teen years. Come to this FREE 7-week programs.
When: Every Monday, Feb. 5 – March 19
Where: Sandy Hill Elementary School, 1990 Baldwin Street in Jenison. (enter through the front doors and head to the library)
To Register: Contact Howard Matthews at (616)396-2301 ext. 145 or email at hmattews@arborcircle.org
•Kids and Family Expo
Saturday, January 27, 2018 from 10am – 5pm at DeVos Place – Grand Rapids, MI
•Food resources are available in Ottawa County
, and it's now easier than ever to find those resources online. Residents can search for food pantries and community meals, either by date or location, at 
ottawafood.org/findfood
.
•GVSU KIDS DAY
GVSU vs. Purdue Northwest
January 27
Kids 12 and under receive FREE ticket
POST-GAME AUTOGRAPHS ~ INFLATABLES ~ MASCOTS ~ FREE GIVEAWAYS
GVSU Fieldhouse
Men @ 1pm
Women @ 3pm
Community Ed…
• You can click here to go to the community education page on the Hudsonville Public School website or click link below to see the new winter offerings.
Hudsonville Community Education – Winter Offerings
Upcoming Events