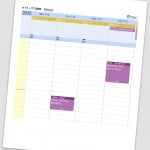 We are kicking off the first week of March with a short but very important week.  Parent/Teacher conferences will be held on Monday, Tuesday and Wednesday – late afternoon and evenings.  We look forward to meeting with you and sharing the growth your child has made since the beginning of the school year.  If you cannot remember your schedule time, please contact your child's teacher.
While you are at PT Conferences, please check out the amazing baskets for our basket raffle.  These baskets have become an annual PTC fundraiser.  The money earned from these baskets go toward funding PT family activities, materials for our library, and instructional materials for the classroom.
Mon 3/2 Day 2:  P/T Conferences 5-8 pm; JET's PIZZA NIGHT-Pizza for the family while you are at conferences!
Tues 3/3  Day 3:  Music Therapy:  ECSE, CI in MPR 1:30-3:00 pm; P/T Conferences 4-7 pm
Wed  3/4  Day 1:  P/T Conferences 4-7 pm
Thurs 3/5:  NO SCHOOL.  Teachers will be participating in professional development training.
Fri  3/6:  NO SCHOOL.  WINTER BREAK DAY!