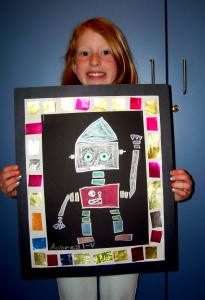 In April of 2009, Mrs. DeWeerd invited our school to enter an international art exhibition in China.   Our  sister school  Raey Guang is in Pingtung, Taiwan, and  she felt this would be a natural connection for our students.
Mrs. Brouwer, our art teacher, selected five works of student art and submitted them to the 40th Annual World School Children's Art Exhibition. This exhibition is held each August at the National Taiwan Arts Education Center in Taipei, Republic of China, and features children's artwork from all over the world.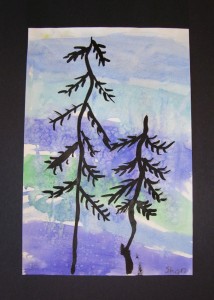 TWO of our student pieces were selected for display in the exhibition – Aubrey's "Happy Robot" and Shari's "Winter Pine".
Selection for the Taiwan exhibition is a great honor and our Georgetown artists deserve congratulations for their hard work!  Their pieces were selected from over 30,000 submissions (yes, thirty thousand!) from 53 countries. Aubrey and Shari will be given a "Certificate of Merit" sent to me from the Republic of China for their participation in the Exhibition. Congratulations, Georgetown Artists!
We received a beautiful catalog that contains color images of the World School pieces that were awarded Gold, Silver, and Bronze medals in the competition. It will be on display in the art room….stop in for a look at the award winning artwork created by children living in Argentina, Australia, Austria, Belarus, Bolivia, Brunei….and 47 other countries!
Both pieces of art will now be added to our permanent collection so that they can be appreciated and honored for years to come.
Many thanks to Mrs. DeWeerd for encouraging us to submit work, to Mrs. Brouwer for taking the time to safety pack and ship this work to China, and to our artists (Shari & Aubrey) for creating the work that showcased our wonderful school and country!