As many of you will remember we held a "PINK DAY" last May as a fundraiser for breast cancer awareness. In one day we raised $1100 which we donated to the Susan G. Komen foundation. We had 3 board members visit our school a couple weeks later and we presented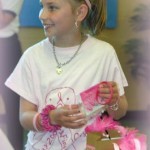 them with the money that we raised. While they were at our school they invited us to be part of the Susan G Komen Race for the Cure which will be held September 26, 2009 at the Rivertown Crossing Mall in Grandville.
We have created a school team for this event and want to invite everyone to participate. The name of our school team is the Georgetown Pink Panthers. You can register at this location. Included with you entry fee is a race day T-shirt. I think it would be a great act on the part of Georgetown to set our goal as the largest single team participant. We have set a goal of raising $1,000 as a school team for the cure.
The deadline to sign up for our team is September 25. If you plan to be part of our team and race day please sign up early.
Thank you.
Ashley Tiesman – Team Captain, 5th Grade Student, Georgetown Elementary
Check out Ashley's interview on WZZM-TV Take Five: