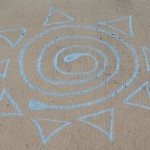 We welcomed nearly 580 children to Georgetown today…from Early Childhood (ages 3-5) and kindergarten to grade 5.  It was a successful first day with on time bus runs (to school), a series of three lunches which served every single child in the school, bus tours for kindergarteners, art/music/pe/computers and much more!
Please let us know if you have any concerns or questions about our routines as we are continually perfecting these to make sure that all children have more than enough time to learn, eat, play and learn some more.  Although our lunch routine went well from the staff perspective (huge thanks to Mrs. Schreer for her work on this–and her incredible team) occasionally we will miss the child who does not eat enough or is anxious in the lunchroom.  PLEASE let us know if we need to keep an extra eye and a tender heart ready for your special one.
I captured some great moments today beginning with bus drop off and ending with bus pick up.  The video ends with our 5th graders walking their K buddies to the buses…and these are precious photos. Hats off to our 5th graders for all they do as models of our school…and two hats off to our TTh K students who did a great job today. Enjoy!  We are looking forward to meeting our MW pre-kindergarteners and kindergarteners tomorrow.