It has been one year since I launched our new reader friendly school blog.   During that time period, every teacher in our building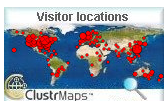 has developed a  blog for their classrooms.   As a staff, our goal has been to make all information accessible immediately and to share news more frequently throughout the week.  This goal has helped us to connect with grandparents, family members and friends of students all over the world.  The blogs have also helped us to stay in touch with our penpals in Taiwan and connect with educators across the world.
As of last week, we had 33,767 visitors to our school blog!  These visitors have come from all over the world–and some of them have left comments regarding our posts.
A map showing hits from 69 countries is posted above.  For those of you who like specific data on visitors,  a list of the countries and number of visitors  from each is below.  Thank you to everyone who visits our blog!