Based on my conversations with teachers, visits to classrooms, walks through the lunchroom and time at the bus loop, I can say this:  IT WAS A GREAT FIRST DAY BACK TO SCHOOL!
There were many smiling faces…with a few nervous tummies here and there.  As one kindergarten told me, "This morning kindergarten sounded good.  I changed my mind.  I want my mommy." How can you argue with tender logic like this?  We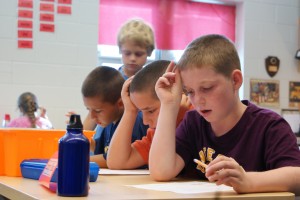 took a little walk, got a drink of water and then she was ready to check in on her class again.  The perk for me…I got to know one more child in the building!
As we head into day 2 for all of our students in grades 1-5 (and our first day for MW K and ECSE), please keep us posted on any issues that might pop up.  Our goal is to make sure everyone is safe and secure…and create the best learning environment possible.