We are embarking on our third week of school already!  We continue to work on routines and climate–helping everyone feel welcomed and an equal part of our learning community.
If you have any questions about procedures (learning, recess, lunch), please make sure you contact your child's teacher.  If you discover that your child is not eating his/her lunch at school, it is very important that you let the teacher know.  We provide extra time to any child who needs more time to eat—and also very discreetly check on children who might not be eating well during lunch time.  As soon as you let your child's teacher know of your concern, we alert the lunch staff and make sure that we support your child during lunch time.
The week ahead begins with "Saying Cheese!"  Picture Days are on Monday and Tuesday of this week.
We end the week with a Family Fun Festival, sponsored by the Hudsonville Education Foundation.  This will be held from 5-7 pm at the Baldwin Campus Stadium…and serve as a pre-game activity.  The money raised from this event will go toward the foundation which funds teacher grants.
Each school in our district has a "DUNK TANK" representative. The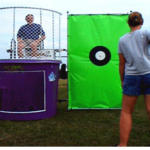 Georgetown representative is Miss Taber, one of our first grade teachers!  We will be cheering her on.  Stop by to see her in the dunk tank from 5:50 to 6 pm.
A snapshot of events from our school calendar is below.  You can look ahead on our calendar by visiting the sidebar to the right.
Have a great week!
Mrs. Reagan