We want to give a big THANK YOU to everyone who visited the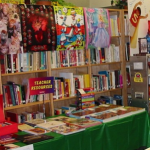 Scholastic Book Fair this past week.  As a result of all the students and parents who made purchases we were able to put over $3,500 worth of books into our school library and classroom libraries.
In addition, because of all the One for Books donations we will be giving $210 worth of books to three non-profit organizations dedicated to helping kids and families in need.
The organizations include the Marine Toys for Tots Foundation, Kids in Distressed Situations, Inc., and the Kids in Need Foundation.  This is the largest amount we've ever collected!  Your generosity will be used to give kids books who otherwise wouldn't have any.  Georgetown also receives a matching donation of books for our own library from Scholastic!
Kids who had to order their books from the Book Fair will be receiving them shortly, if they haven't already.  Thank you for your patience!  We promise it will be worth the wait.
This Book Fair was organized by Mrs. Carrie Clark-Berry, a parent of two former students, Jack and Emily.  She loves reading and has been instrumental in setting up our book fair since we opened four years ago.  Carrie volunteered to continue with the Book Fair to help transition our new co-chairs into this important PTC activity.  The co-chairs and next year's official co-chairs are Mrs. Cindy Roerig and Mrs. Christi Dandurand.   All three of these individuals with the additional support of many other parents put in many hours with set up, sales, take down and much more.  Many thanks for all you do to support getting books into the hands of our readers!