Royal Technology is a local company that is very supportive of the Hudsonville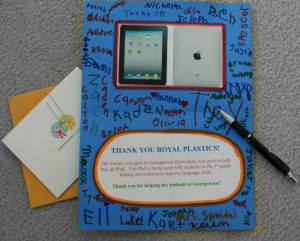 Public Schools.  They assist with placements for high school students interested in pursuing degreees in engineering as well as donate funds for needy families and learning initiatives.
This year, Royal Technology donated money to go toward supporting learning in district classrooms.  We utilized the money to help fund an IPAD for Mrs. Speidel's speech and language program.  She will be highlighting the use of this on her school blog throughout the year.
Thank you Royal Technology for supporting learning in the Hudsonville Public Schools.