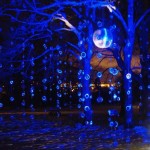 The evening was a great success as a result of the many people who came together! Because of all your help, the ENCHANTED EVENING was a fantastic time for fathers and daughters to spend time together.
I would love to acknowledge the following people:
Mrs. Reagan for allowing us such flexible usage of the building and setup times.

Mr. Rob for everything, especially putting up with the glitter! (I promise NO glitter next time.) And EVERYTHING else that you do that we don't even know about.

The Georgetown PTC for your support.

Angie and Doni for fielding all the parent questions and collecting forms in the office for us.

PE teachers for loaning us their hula hoops and orange cones.

Thank you to our DJ Greg Rios for his awesomeness! And telling 100+ girls what his name is because I made it a question on the scavenger hunt. Ha!

Thanks to our photographer McConomy Photography. We can't wait to see the pictures.

Robyn Smit for 300 delicious, fresh-baked cupcakes.

To my co-chair Stacey Alexander for contacting dozens of companies and getting donations for raffle prizes. And for enduring the swarm of girls around the raffle table.

A special thanks to our boys Spencer Alexander and his friend CJ for enduring their Tux's, announcing the girl's names and pitching in with the games!

To Mindy Jeltema for solving the "big" bracelet issue (they're anklets too!) and being my "go-to" girl! You ROCK!

Staci Nieboer for being willing to do anything and everything including clapping for almost 2 hours because the kids couldn't hear the music for our Musical Thrones game. And for saving your Grandma's jewelry so we

had some fun clip-on earrings for the Dad's to wear for dress-up.

Linda Verburg for being our fruit kabob leader and Hula Hoop helper.  Thanks for hanging in there when I forgot to rotate you to a different game! Oh, and let's not forget expert duct tape ripper!

Jodie Harris for being our popcorn master! You DEFINITELY earned your pay.

Melissa Pell who was a trooper picking up and delivering 120 balloons! Thanks for your high heel shoes, too. I hope they are still in tact.

My errand girls: Mindy Jeltema, Stacey Alexander, Kathy Everts, and Michelle Walker!

Brenda Zuverink for being the photo helper and writing down 172 (my best guess) girls names and of course your Treasury duties and availability.

Renee Baar for climbing tall ladders and hanging christmas lights.
Cindy and Jamie for welcoming all of our pretty girls to the dance and pouring endless drinks.
Our Dad's Mr. Alexander, Mr. Verburg, Mr. Pell and Mr. Troyer who stuck around and helped cleanup.
For 

food donation or setup: Regina Smith, Shannon Foley, Sara Baker, Julie Reifschneider.

To all of the dad's for making the night fun, wearing high heel shoes, makeup and feather boa's, and showing us your best air guitar.
Donation Recognition:
Micandy Gardens
Costco
Lowes (specifically the regional manager Charlie and his wife Yvonne Clark)
White Caps
Grand Valley Basketball
Thousand Oaks Golf Club
Old Orchard Juice
Dicks Sporting Goods
Design One
Olive Garden
Amanda Troyer
Future Mother-Son event planner…wanna help?