I am fortunate to have two families that keep me centered and supported:  My Georgetown family, composed of an incredible group of children, parents and staff AND my home family, composed of a wonderful husband, daughter and son.
This past week, I watched many parents drop their child off for their first day of school at Georgetown.   I saw and heard a variety of emotions displayed — excitement, anxiety, joy and fear.  Some children raced off to the playgrounds while others stood close to their parents.  Some parents were happy  to see their child start the school year, others were worried their child might get lost on the playground or have difficulty making it to the right classroom.  The first day of school is a journey of learning to let go of your child, trusting that you are leaving them in good hands and hoping you have done the best to prepare them to be independent, secure and comfortable away from home.
I have experienced this same roller coaster of emotions with both of my own children on their first days of school. Many of you know
that my oldest did not transition well to kindergarten.  She was tearful at the bus stop and cried nearly every morning before school for weeks.   I can still remember say, "Kelsey, there are other kindergarteners who miss their momma's and daddy's too," among other pat phrases I had developed to normalize her feelings —and calm myself down.  It was exhausting for both of us.
I relived this "letting go" journey again this past Wednesday.  My husband and I dropped Kelsey off at college.  The day was a deja vu experience, one that the college president prepared us for in the welcome ceremony.  As the president addressed the freshman parents, she encouraged us to practice these four tips during the coming year. Ironically, these tools are the same for the first year of kindergarten too.
LISTEN:

 When your child tells you how much they are missing you, how worried they are about making friends or how they just can't be away from you because their heart is broken listen, listen, listen.  Try your very best to just listen without interrupting or blaming or guilting or fixing.

NORMALIZE:

 As your child is sharing their worries and you are listening, look for opportunities to tell them that you understand how they are feeling and at the same time use this to normalize their experience.  Share that other classmates also have a hard time adjusting.  Let your child know that their feelings are normal and others go through the same thing.

REINFORCE PROBLEM SOLVING:

 When your child is done crying and ready to listen to you, ask them:  What can you do to make friends?  Let me show you how to walk up to someone on the playground and ask to play.  Let me show you how to ask your teacher for help.    RESIST THE URGE TO FIX THEIR PROBLEMS FOR THEM:  Do all you can to make sure your child doesn't see you as the person who fixes their problems.  If your child comes to you with worries and your reaction is to take matters into your own hands and skip #1 and #2 above, your child will not learn how to share their emotions, normalize them and get to the important step of problem solving.

CELEBRATE:  

For each step of independence they make, celebrate with them. Talk about how proud you are when they go to the teacher for help, seek out new friends on their own and mark every single step they make in learning and independence by reminding them that they are doing important work as a learner and a person.
As my husband and I left the auditorium and headed for convocation, we talked about the irony of the president's speech and how we hoped to use these pointers later that day.  Kelsey was excited to be heading to college, but during the early morning dorm room unpacking, we saw glimmers of self-doubt about making friends, 'being smart' enough to compete with peers from all over the country and world, and worries about homesickness.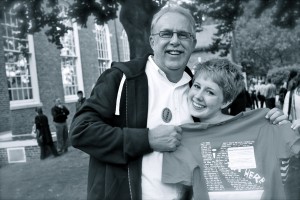 When convocation ended, we said goodbye to her in the pine grove and she begged us to stay longer.   Our first test, and I will admit my shoulders stiffened and my heart ached.  We negotiated by walking along the path toward the dorm, hugging her and listening.  She shed tears and talked about her fears….and we listened.  After a few minutes, I found myself saying, "What you're feeling is normal…and this campus is filled with many like you.  But you are ready and what you are feeling is normal.  We will always be a phone call away to support you.  It's okay to be sad and worried.  Breathe.  One more family hug, then a mom hug and then a dad hug.  I'll count to three and you'll walk to your dorm and we'll walk to the car."
It was hard.  We said goodbye through tears and as my husband and I drove home, we hoped we had handled the goodbye well.  Less than two hours later, we got a text from Kelsey: "I love you guys!  Met some friends.  Feel better.  Know I am going to love this place."  We both breathed a sigh of relief.
And, this is how it goes in kindergarten too.  They might leave you crying but a short time later, they are playing at the lego table or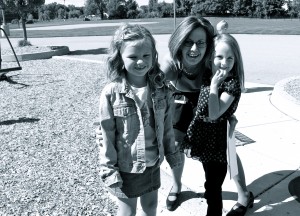 listening to a story. Know this:  I understand how hard this journey of letting go can be.  I know how much work it is to prepare our children for growing up and how emotionally exhausting it is to listen and guide them in problem solving for themselves.  We are all here to support you in this journey….from the PK/K incredible teacher assistant Miss Lisa, to your child's teacher, to Mrs. Stacey our lunch supervisor, teacher assistant and bus supervisor to the wonderful, caring secretaries (Mrs. Ripley and Mrs. Nurenberg) to me, your child's principal.
If there ever is a time that you feel that a problem is too big for them to handle or involves a safety issue, please do not hesitate to email your child's teacher.  We want every child to feel safe, eat well and have the best experience possible!  As I close this post, please know how much I value your trust in us and value the work we do with your child each day.  We truly love Georgetown and our profession of teaching and learning…and we will take care of your child!
Mrs. Reagan