Looking for a family activity this weekend?
Check out the Ice Sculpting Competition in Downtown Holland!
Friday January 06 – Saturday January 7
Each January, Downtown Holland partners with the National Ice Carving Association (NICA) to host a Collegiate Invitational Ice Sculpting Competition. This year's competition will take place Friday, January 6 and Saturday, January 7. Downtown Holland and NICA will bring talented students from colleges around the Midwest and beyond together for this exciting weekend-long competition. This is one "cool" event you won't want to miss!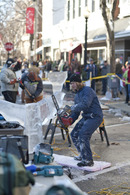 Over 20 talented students will be competing in the collegiate invitational, each transforming 300-pound blocks of ice into glistening works of art using chisels, chainsaws, torches, and more. The compulsory competition will take place from 6:00 pm – 8:00 pm on Friday, January 6, while the freestyle competition will be held from 12:30 pm – 4:30 pm the afternoon of Saturday, January 7. Bundle up and come watch in amazement as the ice flies!
The sculptures will remain on display for the entire weekend…weather permitting of course! So gather up your friends and family and take a stroll in Downtown Holland this winter. Enjoy shopping at the many stores, boutiques, and galleries or relax at a coffee shop, restaurant or pub. And do it all without a slip thanks to the heated sidewalks. It's the perfect cure for the winter blahs!
Questions? E-mail info@downtownhollandice.com.
Admission: Free
This event is organized by: Downtown Holland
616.988.6187