for school to begin?   The staff at Georgetown Elementary is very busy getting ready for all of YOU!
Please plan to attend one of these open houses:
Kindergarten August 28 6:30-7:30 pm
Grades 1-5 August 29 6:30-7:30 pm
Parents:  Please get a head start on the HEALTH FORMS if your child needs prescription or over the counter meds at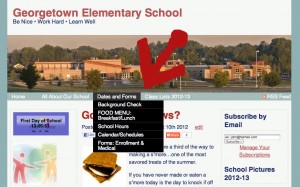 school.  Go to the tab above DATES and FORMS and click on MEDICAL FORMS.  Print these off at home and bring the form to school with the meds.  Be sure to have your doctor sign forms for prescription meds.  We cannot accept medication that is not accompanied by the proper form.
Under this tab you can also find a link to the year long school calendar (vacations, etc.) as well as other important information.
To find out staff emails and phone extensions, visit the ABOUT OUR SCHOOL tab above.  Each teacher has contact information listed on their class blogs which are available along the left sidebar of this blog.
Before you leave, sign up for email updates to the top right.  We communicate all events through the blog and email.  We do not want you to miss out on any information this year.
We are looking forward to seeing you next week during the open houses and on the first day of school, September 4.
School begins at 8:5o each day.  School ends at 3:40 pm each day.
Mrs. Reagan