Our good friends from Raey Guang arrived today…bringing with them lots of excitement and energy!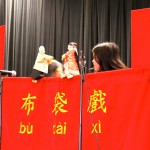 We celebrated their arrival with an all school assembly, listened to presentations about the culture and foods, learned some mandarin phrases, watched a traditional puppet show and learned how to use a Chinese Yoyo.
This evening our friends are staying with Georgetown families, engaged in Halloween preparations and much more.
I have been receiving photos from families out and about this evening.
 Over the next couple of days, I will collect these for you to watch in a slide /show.
Enjoy the slideshows created by two teachers below!