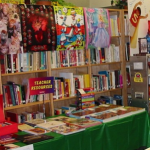 With all the snow in the forecast it's hard to believe that we're planning for the Spring Book Fair! It's right around the corner, March 11-15.
The theme is "Story Laboratory: Reading Gives You Super Power!"
We're in need of MANY VOLUNTEERS! If you're interested in volunteering please click here: 
http://vols.pt/kQEUqe
 to sign up on @VolunteerSpot today!
DON'T FORGET, ALL VOLUNTEERS RECEIVE 10% OFF THEIR PURCHASE!