As you can see below, the highlight of the week is MARCO's PIZZA Night on Wednesday.  When you order your pizza, make sure you give your child's teacher name.  The class that orders the most pizza's will receive a pizza lunch compliments of Marco's and our Parent Club.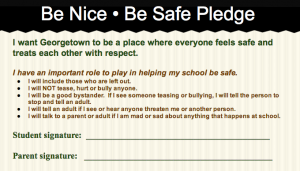 Throughout our building this week, classrooms will be focusing on a curriculum called Be Nice • Be Safe – strategic lessons to teach skills to prevent bullying.  We will be sharing the lessons on our blog at the end of the week.  On Friday, you child will bring home a Be Nice • Be Safe  Pledge  that is signed by you and your your child and then returned to school where it will become part of the a class book.
We are hopeful that these common lessons help our children understand the difference between bullying and rough play and much more.
It sounds like we have some interesting weather events  ahead for the day.  Be safe wherever you are today.
Mrs. Reagan