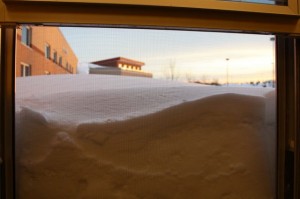 We did it!  We made it through our first five-day week of 2014.    Our next goal is to make it through another week with no snow days.  WE CAN DO IT!
The first day of spring is March 20.  We need the warm up to begin so that this pile outside my office is gone and replaced by Mr. Rob's well manicured green lawn.
Remember Wednesday is MARCO's PIZZA NIGHT.  The class with the most pizza's purchased will win a class pizza party.  Thank you PTC for organizing and sponsoring these events throughout the year.
Have a great week!