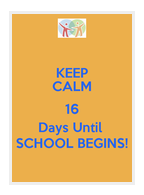 It's hard for me to remain calm when I am so excited to get the 2015-16 school year rolling!
Mr. Rob, our custodian, has been working throughout the summer with his team (Kesley and Chloe) to prepare the classrooms, hallways and grounds for Georgetown's tenth year of operation.  (Our official 10 year anniversary is September 2016.)  We opened September 2006 and our building still looks NEW thanks to Mr. Rob, his team and the staff that treat this building with love, respect and care.  We are very proud of our district, building and community and we want everyone to feel this when they enter the grounds of Georgetown.
School begins on September 8 at 8:45 am.  Open Houses are as follows:
PK August 31 @ 6:30 pm
K September 1 @ 6:30 pm
Grades 1-5 September 2 @ 6:30 pm
If you would like to get a head-start on forms for school, read on.
I am looking forward to starting the year….and counting down every day!   See you soon!
Mrs. Reagan
BACKGROUND CHECK:  Must be completed if you attend any events at school (including parties and field trips) and if you volunteer (help in classrooms).  We encourage all parents to complete this at the beginning of the year.  The background check form is now online.
MEDICAL FORMS:  Please complete if you child needs medication at school.  Forms must be submitted with medication.  We cannot take medication without forms.  Also, parents must drop off medications and forms.  DO NOT SEND MEDICATIONS WITH CHILD.
FOOD and OTHER ALLERGIES  If your child has a food related allergy, please inform the teacher and school ASAP.  For allergies that require an EPI PEN, you must send one to school.  We keep two EPI PENS at school for reactions that are not anticipated —  a reaction that occurs with no prior history of the medical condition. We want to keep all children safe.  If your child has a serious food allergy, please inform us, provide the EPI PEN and protocol to follow if there is an emergency.
PARENT CLUB:  We need your help to support learning and family events.  Please complete this survey to show your interest.  Also, we are in need of a CHAIR for BOX TOPS.  This is an activity that can be done at home.  We have a summer incentive for BOX TOPS  meaning the collection this fall should be very efficient! If interested, contact Nancy Patrick:  nkpatrick58@gmail.com
BLOG SUBSCRIPTIONS Use this time before school begins to get to know the blogs.  While visiting, sign up for email subscriptions to the school blog, your child's class blog and the district website.
SCHOOL SUPPLIES:  All students need gym shoes at school.  Send these with your child on the first day — or  drop them off at the open house when you visit.  For more on school supplies, visit your child's class blog.
VACCINATIONS  If you have not submitted your child's vaccination record, please do so before school begins.  State law now requires all students to have a vaccination record in order to begin school.  We cannot allow a child to attend school without the vaccination record on file.  If you have not turned in your child's immunization record or waiver, you will be contacted by the end of this week by our school secretary.  If you are unsure, call your pediatrician to check and see if their child is up to date.  More about vaccinations /immunizations: Information about the vaccination rules.
TURN ON YOUR CHILD's LEARNING BRAIN  If you child is looking for school preparation activities, consider two important options:
Reading 15 minutes per day.  Get that reading brain turned on.  All the learning we do at school is connected to the ability to read.  If your child is a PK or K age student, READ ALOUD.  This is a great way to build vocabulary and interest/curiosity about reading.
MOBYMAX  We have a school online account that permits your child to practice reading skills, math skills and more.  To find out more, visit: MOBYMAX SUMMER CHALLENGE   If you do not know your child's login, email me  treagan@hpseagles.net
WHO is my CHILD's TEACHER:  Teacher's for the 2014-15 year were named on all June report cards for children who attended school at Georgetown last year.  If your child is new to Georgetown (PK, K or transfer/move-in) you should have received an email from me when you enrolled.  If you do not know who your child's teacher is, please contact me:  treagan@hpseagles.net