Dear Parents,
We know that everyone is VERY BUSY with life — work, family events, child activity events and more.  As a result, we know how hard it is to volunteer at school with these  demands on your time.  One simple way EVERY PARENT ( and friends/family of parents) can support our school is through the many business partnerships below.
By ordering through AMAZON SMILE, collecting BOX TOPS, collecting D&W and FAMILY FAIR receipts, recycling your paper into the PAPER GATOR, our school can raise up to $2,000.  We use this money to support activities in our school for all of our children. Information is below on all the donations.
Also…our ONE BIG and ONLY Fundraiser for the year occurs on September 23…the GEORGETOWN WALK•A•THON.  More coming on that soon.
Thank you for your support!  Audrey Straub, PTC President 
AMAZON SMILE
A great way to help our school: AMAZON SMILE. Go to your Amazon account via the link below and AMAZON will donate .5% of your eligible purchases to our school. The PTC will use these donations to support learning & family activities at our school. Every DONATION counts …. and adds up!  Please start today…and use this link.
FAMILY FARE and D& W:  DIRECT YOUR DOLLARS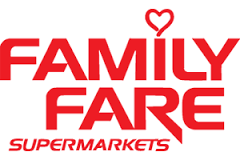 Georgetown Elementary PTC has the opportunity to earn $1,000 from SpartanNash Stores:  Family Fare and D&W.   Through the Direct Your Dollars program, we can turn eligible receipts into cash for our organization!
Every time you shop at any Family Fare Supermarket or D&W Fresh Market, save your receipts.  Turn these into school — either via your child's teacher or the office Direct Your Dollars Box.
For every $150,000 in receipts we collect, we will earn $1,000 donation.  This money
helps  cover costs such as classroom supplies, technology upgrades, books, field trips, parent/child events and other needed items.  NOTE:  We need the ORIGINAL receipt in order for your purchase to count toward our total.
If you aren't able to drop your receipts off in person, you can also mail them to 3909 Baldwin St, Hudsonville MI 49426.
We love this program!  It is very successful — especially with it being led and organized
by Lori Simpson.  This post has a link to HOW To's….and we have extra papers in our office.
We love to take your old paper for our HUNGRY PAPER GATOR.  You fill it up and we earn money for our school.  What can go into the PAPER GATOR?