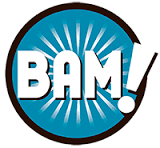 Mother Son Game Day!!
1 hour bowling, 1 game of laster tag, and 45 minutes of unlimited arcade play!!
When: Saturday, March 25 at 2:00
Where: BAM! in Holland , 478 E. 16th ST
Cost: $12 for moms and $11 for Sons
Please return the attached sheet wth you check made payable to Georgetown PTC by Friday, March 3!!
This is only for Georgetown elementary boys and their moms.
Here is the form to fill out and return Mother-Son Event