See something that belongs to your child?  Send me an email and/or send your child to LOST & FOUND on Monday!
We have a busy learning week ahead!  Most grades are preparing to assess in reading to determine if readers can move up another level or to another genre and end of unit assessments are taking place in the other content areas.
Our mid-week could be more active due to the Super Blue Blood Moon.  This full moon will create a full lunar eclipse — visible on the West Coast, Alaska and Hawaii.  We won't be able to see the eclipse — however, there's always a rise in energy during a full moon.
Thursday evening, I am holding an orientation meeting for parents of incoming pre-kindergarten and kindergarteners.
Friday is an Early Release Day.  Teachers will be spending the afternoon analyzing test results to plan for intervention lessons as well as next units of instruction.  Friday is also GROUND HOGS DAY.
This holiday has it's roots in an ancient Christian tradition in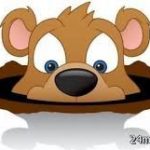 which clergy would distribute candles for the winter.  The longer the candle, the longer winter was predicted to last.  Over time, this holiday evolved to using a hibernating groundhog as a prediction of winter's length.  All this information and more can be found via the History Channel.
Check out the photo of lost & found items at the top of the page…and a list of our events below.
Stay healthy and happy weekend!
Mrs. Reagan