Blog Bits 11/9/2018
News From the Office…
It has been busy at school and we are already looking at Thanksgiving coming up! Thank you to all the parents that came to parent teacher conferences! It is great to see the parent support for the kids here! We want to give a huge shout out to Mrs. Schollaart for organizing the teacher dinner for conferences and to all who donated food for this! It is greatly appreciated and was delicious!
We also had book fair this week so the library was busy as well! Thank you to Audrey Straub for organizing this big event and to all who volunteered their time to help with this! It is a big event that the kids love and would not be possible without all of your help!!
Looking ahead, we wanted to give you the dates for Thanksgiving Break. We will be off Wednesday, Nov. 21 through Friday, Nov. 23. We will be back to school on Monday, Nov. 26.
Have a great weekend everyone!
Next Early Release…
Our next early release is on Dec. 14. We will be dismissing at 12:15 on Dec. 14. If your child is a car rider, please be at school between 12:10 and 12:15 for pick up.  Food Service will be offering a sack lunch on early release days. Children can order a lunch with their teacher in the morning and will have them to take to their destination.  The cost will be $2.25.  Free and reduced benefits will also apply.
PTC News…
Nov 15 – PTC Meeting at 6:30 in the library
Nov 19 – Culver's Night- 5:00-8:00PM, Culver's will donate a portion of their sales to Georgetown PTC in both the restaurant and the drive-thru. Teachers and staff act as servers and car hops. Come out and see them and support our school!!
Nov 30 – Popcorn Friday
PE News…
It's PE CARES food drive time! They are taking donations until Nov. 16 at noon. Donations will be picked up that afternoon.
Suggested items to donate:
Mac n cheese, Peanut Butter, Jelly, Canned Fruits and Vegetables, Fruit Cups, Applesauce, Canned Chicken, Instant Potatoes, Pancake Mix, Syrup, Oatmeal, Cereal, Fruit Snacks, Crackers, Granola Bars, Canned Pasta, Boxes of Spaghetti or Sauce, Boxed Meals.
Please note we are asking that ramen noodles are not taken in or if they are, the case will be counted as 1 item.
The class that brings in the highest number of items will win PE CARES t-shirts and a bowling field trip to Hudsonville Lanes! Thank you for your support in this community service project, and for taking the opportunity to teach our kids about compassion for others and being part of a community!!
SAVE THE DATE!! Mark it on your calendar that the Holiday Program is on Dec. 13 at Fair Haven Church. More details will come out later.
Community News…
•Could you or someone you know use some support this Christmas? 
Call us at Love In the Name of Christ 616.662.3300 and ask for the Call Center.
We would love to hear from you!
•Hudsonville Ski and Board Club
We are pleased to offer this online registration process. Click the link below to view the flyer.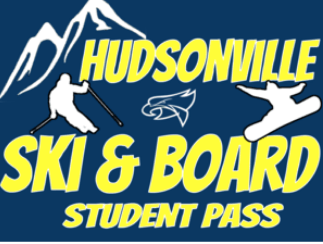 https://2018skiboardclub.itemorder.com
Here's how to sign up:
Step 1:  Fill out the required online information on this website
Step 2:  Make checks payable to Hudsonville Public Schools and deliver payment to the Elementary, Middle School, or High School office of your choice.  Please label envelope Hudsonville Ski and Board Club.
Ski and Board Club merchandise is also available online. Check out some of the great gift ideas for the upcoming Holidays!
3 Signup Deadlines:
1) Sunday Nov. 18 with Cards delivered before Thanksgiving Break
2) Friday, December 14 – Cards delivered before Christmas Vacation
3) Thursday, January 3 – Cards delivered Monday, January 7
Community Ed…
• You can click here to go to the community education page on the Hudsonville Public School website. There are many activities for your kids to look into!
Sign up to receive texts from HPS
1. Confirm that your cell phone  is on file at your school
2. Text "YES" to 68453 from each phone or device from which they wish to receive texts.
Upcoming Events