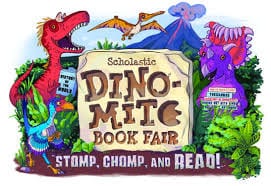 Book Fair is Coming Soon!
It's going to be Dino-Mite!  We are so excited to be bringing the scholastic book fair to our school during Reading Month.  There are so many new titles for all ages and stages of readers.
Your child will have a chance to preview the book fair on Monday March, 11 and Tuesday, March 12.  Keep an eye out for their wish lists to come home.  On Wednesday and Thursday they will have an opportunity to shop with their class. We will be open on Friday morning for last call so if your child missed shopping with their class no worries they can stop in Friday morning.
There is a new way to pay this fair! You can set up an E-Wallet for your child and put money on their account similar to our lunch program. You can add, manage and track spending.  Your credit card is charged only for the amount spent; any unused funds will be returned to your card.  
We will also be open during the conferences on Monday, March 11 from 4-8p and Wednesday, March 13 from 4-8p.  Stop on in and say Hi!
There are also a few spots that need to be filled for working the book fair! Check the link below to see if you can help them out! Thank you!! It is very much appreciated!!
Please sign up for Spring Book Fair!
Here's how it works in 3 easy steps:
1. Click this link to go to our invitation page on SignUp.com: http://signup.com/go/LVXuyKK
2. Enter your email address: (You will NOT need to register an account on SignUp.com)
3. Sign up! Choose your spots – SignUp.com will send you an automated confirmation and reminders. Easy!