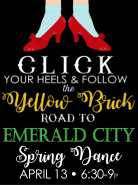 Mark your calendars for the Georgetown Girls Dance!
April 13 from 6:30 – 9:00
Forms went home already, but you can also print it out using this link. ClickYourHeels-1eaei17
Forms are due tomorrow!! Friday, March 22
The cost is $25 per couple and $5 for each additional girl. You can make a check payable Georgetown PTC and return it with your completed form.
If you have any questions, please email Audrey Straub at audreystraub@gmail.com