Welcome Back Georgetown Parents! 
NEWS FROM THE OFFICE………. We are hoping that everyone enjoyed their extended Holiday break!!  That might be longest break ever!!  With that being said….. it is really nice that we have snow so the kids can be outside and play.  : )  It was nice starting back with a three day week last week, but man it was a little tough doing five whole days this week!  Do not be surprised if your children are worn out this weekend!!  January is a pretty quiet month over all so there is not much happening at school this month.  Just trying to get back in to the swing of things.  Please try and enjoy the calmness : )
WINTER WEATHER………. Just a friendly reminder that we DO NOT keep students in from recess or before school starts unless the temperature or wind chill is BELOW 0 degrees.  We keep a close eye on this is the office so we are making sure the students are safe.  : )   With this being said we started noticing this trend  before break and it has been increasing since we have returned to school that a lot of students want to enter the building before the first bell rings at 8:45am.  Unless the temperature/windchill is BELOW 0 degrees or it is raining the students MUST go around from the circle drive to their playgrounds.  Please make sure your students come prepared for the chilly weather in the morning to be out on their playgrounds.  If students arrive before 8:45am they will be sent around to their playground.  : )   If you, as a parent, are coming into the building for any reason your child is welcome to come in with you.  Thank you for abiding by these rules.
LUNCH MENU……….  Here is the hot lunch menu for January……. January 2014 Hud Elem-1  Deposit Slip
BACK BUS LOOP…….. Is for Busses ONLY!!!   Please do not drop off or pick up students here.   Students must be picked up/dropped off in front of the school.  Remember that the front loop is for busses only as well in the afternoon..  Please park in a marked parking spot when picking up students.  In the morning you may drive through the circle drive to let students off.  Thank you.
KINDERGARTEN ROUND UP……….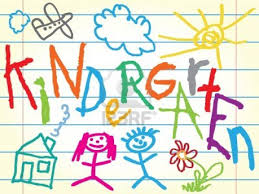 Believe it or not…… it is that time of year!!  Kindergarten Round Up will be held on Thursday, February 27 at 7:00pm.  We will be holding it here at Georgetown Elementary in the Multi-Purpose room.  There will also be a morning session if you are unavailable to attend the evening meeting, it will be held at South Elementary at 10:00am on Thursday, February 27 as well.  Registration packets will be made available in all elementary buildings on Monday, January 20.  Please remember….. it is not a first come, first serve basis, so there is not a rush to get these turned in first.
GIRLS ON THE RUN …… We are in DESPERATE need of at least 2 more coaches for this year's Girls on the Run program.  Coaching is the most rewarding way to get involved with Girls on the Run and learn more about the program. You get to experience the program first hand, feel a sense of accomplishment that you have made a difference in the lives of the girls and have a ton of fun with your team of coaches and incredible girls!  For more information on coaching please visit…  http://gotroac.org/volunteer/coach/  Without the additional coaches we will have to LIMIT the number of girls that can participate.  Please contact Cheryl Havens at havenspc@gmail.com or 616-481-4164 if you are interested.  Shoe fittings will take place at Georgetown on TUESDAY, JANUARY 28 from 3:45p to 6:00p.
LIBRARY NEWS…….. The due date written in the January Pizza Hut Book-It calendar is INCORRECT!  Please change the date to FEBRUARY 15!! Thank you : )
PTC NEWS……..
 BOX TOPS…… The next Box Top Competition will be ending on FRIDAY, FEBRUARY 14!  Make sure you are collecting your Box Tops and when you send them in make sure the Student Name/Teacher Name and NUMBER of Box Tops is on the bag!!  This is a huge help to the volunteer moms who count all of our Box Tops  : )   There will be another collection for after Spring Break  : )
COMMUNITY NEWS……… EARLY CHILDHOOD PARENT INFORMATION/REGISTRATION NIGHT………
HPS Early Childhood Programs – Parent Information/Registration Night for the 2014-15 School Year and 2014 Summer Program
Information Night Date/Time:  Tuesday, January 21, 2014 @ Baldwin Middle School Cafe'  6:00-8:00pm
*Programs include: Preschool, Pre-Kindergarten Care, Before/After School Care, Summer Care.
*These evenings are a chance to gather information about the programs, meet staff, and visit a preschool classroom.  There will not be a formal presentation, so come anytime between 6:00-8:00 p.m.  Children are welcome.
*For more information, please call Shellie or Becky at 616-797-0842.
FEEDING AMERICA MOBILE FOOD PANTRY………..  
Free Food, Thursday, January 30 , 6:00 – 7:00 PM.  
Feeding America West Michigan Mobile Food Pantry will be at Hudsonville Congregational United Church of Christ, 4950 – 32nd  Ave.  The food is free to those in our community who are struggling in these tough economic times. There will be an assortment of food, consisting of fresh seasonal produce and other high quality grocery items. If you have questions or need more information please call 
616-669-1295
.
MILES OF SMILES MOBILE DENTAL UNIT……….

Is scheduled to be in Allendale School District in
February and March!
 This unit provides
FREE
dental services for financially qualifying children.  The Miles of Smiles Mobile Unit will not be coming to Hudsonville, however, Allendale is the closet location that they will be at and you are welcome to schedule them to be seen in Allendale.  : )  You may call 1-800-467-5905 to schedule an appointment or ask questions.  The registration form, parent letter and information flyer are also attached.  Thank you!!  
MOS Registration
MOS:Parent Ltr
MOS Flyer Generic
HUDSONVILLE LACROSSE……..  
Registration for the spring season will
begin February 1st
.  Please sign up at 
www.hudslax.com
.  5
th
-8
th
 grade Boys and 6
th
-8
th
 grade Girls teams for 2014!!  Questions can be directed to Susan Coxen 669-3662 or Drew Ysseldyke 460-8522.  Lacrosse is not a HPS sanctioned sport and is not sponsored by HPS.
GVSU BASKETBALL GAME FOR YOUTH…….. GVSU is planning a youth basketball themed game on February 1st and they welcome youth basketball teams (8th grade and younger) to be a part of the events that day and watch Grand Valley basketball. Throughout the day (potentially) there will be a scrimmage, promotional giveaways, autographs from players, and pep talk with the coaches. The experience for the players would be very memorable and enjoyable! Please let me know if you are interested? Thanks!
************************************************************************************************************
Join us between games for:  
-Introduction of boys and girls varsity basketball players and who they are representing.
-A moment of recognition for those impacted by cancer.  
-Special performances by the Hudsonville Drum Line, Pep Band and HHS Dance Team.
Hoops and Hope purple T-shirts and Zox Straps will be sold for $10.00 each during the basketball home games at Hudsonville High School beginning January 24, 2014 and they will also be available at Eagles Landing (while supplies last). By wearing the special T-shirt and/or Zox Strap, students in grades Pre-K through 12th will be able to attend the games for FREE!
*************************************************************************************************************
MARKET DAY AND MUSIC………  HOPA is still in need of vendors for its Market Day & Music. This will take place at Hudsonville High School on March 8, 2014 from 10:00am to 2:00pm. For more information, contact hopamarket@gmail.com or www.facebook.com/hopamarket. This is another great way to support the Hudsonville Orchestra department. If you or someone you know is interested, please let us know!
OTTAWA COUNTY DEPARTMENT OF PUBLIC HEALTH……. The GRAND HAVEN office has  MOVED!!!  The new address is 1207 South Beechtree Street, Suite B, Grand Haven, MI 49417.  PH.. 616-846-8360…. FAX…616-844-1778….. www.miOttawa.org/miHealth  Grand Haven New Office Hours: Monday 8 a.m. – 6 p.m.; Wednesday &  Friday 8 a.m. – 5 p.m.;  Closed 12 p.m. – 1 p.m.
S.O.A.R. II………..  For the past three years, we have been working on accomplishing our district's long-range planning goals outlined in S.O.A.R. I (Strategic Objectives to Achieve Results).  A report of the many accomplishments during the past three years can be found on our district's website.  Some of the accomplishments include, but are not limited to, implementation of all day every day kindergarten, additional extra curricular opportunities for students (Middle School drama/musical productions and lacrosse as a club sport), and an increased focus on relevance/21st Century Skills in our classrooms.
To continue our great tradition of excellence at Hudsonville Public Schools and to elevate our successes, we are asking for your help in the development of our next strategic plan.  We have completed the first phase of development (Focus Groups) and are very thankful for the wealth of information we received regarding the strengths of Hudsonville Public Schools and areas to focus on in the future.  An executive summary can be found on our website.
We are now entering our next phase in the research:  Randomized Needs Assessment Survey.  If you are asked to participate, please consider taking part in helping us set the direction for the next three years. In February, we will be opening the survey to all parents and community members.  We will email the link to the survey when it becomes available.
Sincerely,
Nick Ceglarek, Superintendent; Ken Hall, Board of Education President
COMMUNITY ED NEWS………. Hudsonville Community Education has many offerings for your kids.  For more information or to register, please visit www.hudsonvillepublicschools.org or call Rebecca at 669-7747, ext. #3.  Listed below are some of the activities that are available currently.
Upcoming Winter Activities to be on the lookout for……….. 3rd-6th GRADE BOYS BASKETBALL…. JR EAGLES BASKETBALL FOR BOYS & GIRLS….JR DANCE CLINIC….KITCHEN CREATIONS….LEARN TO ICE SKATE….BEGINNING FENCING…. INTRO TO HOCKEY….LEARN TO SKATE (ROLLERBLADING)…..PARKING LOT SELF DEFENSE/AWARENESS…..BOWLING (UP THRU ADULT AGE)……YOUNG REMBRANDTS DRAWING
UPCOMING DATES
1/31 ~ NO SCHOOL/WINTER BREAK
2/3 ~ NO SCHOOL/WINTER BREAK
2/4 ~ Jet's Pizza Night
2/7 ~ Popcorn Friday
2/19 ~ Marco's Pizza Night
2/27 ~ KINDERGARTEN ROUND UP @ 7:00pm
2/28 ~ NO SCHOOL
HAVE A GREAT WEEKEND!
MRS. NURENBERG  : )