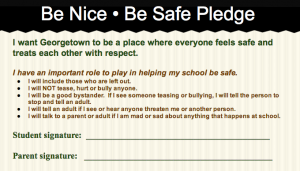 This past week, we have spent a few minutes each day school wide to learn strategies to help us Be Nice • Be Safe in school.  The lessons for this can be transferred to other settings as well.
All students will bring home the Be Nice • Be Safe Pledge to share with you.  Our hope is that you will also sign the pledge so that once returned to school these can be assembled into class books.
All of our lessons can be found below.  Please feel free to review this with your child.