We are heading into our final two weeks of Bustin' Thru Books Boot Camp!  Camp ends on March 27.  So far, the 93 campers involved have read over 30,000 minutes!  We will announce the total minutes read during our spring Talent Show on April 1, 2010.
In addition to Boot Camp, we have a school wide incentive called Raising A Reader. Parents enter minutes read from home and we enter minutes read from school.  The contest is sponsored by the International Reading Association and Parent Magazine.  We are hoping to win $5,000 for new library books.
For those who are looking to stock up on great books for home, our Parent Club is
hosting a Book Fair this week.  The event will be held in the Sensory Room which is located in the Early Childhood Wing.  While looking at the offerings on Friday (a sneak peak with two students named Lexi and Matthew), I found several I wanted to buy myself.
I was thrilled to see that one of my favorite authors,  Lois Lowry, was featured at the book fair.  A few years ago, I had dinner with her–and I felt like the luckiest person the world!  She spent dinner talking about her children, friends and life in Massachusetts.  Lois Lowry was everything I thought she would be–talented, insightful, caring, giving and funny.
Her book, Crow Call, is a personal narrative based on an experience with her father when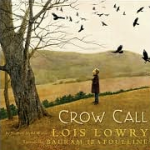 he returns from the war.  This book focuses on the relationship between a parent and child  and the way they reconnect after being apart for so long.   Even though Lois' experience took place after World War II, this book would be relevant for military families today.
Several of our readers have written book talks about books they have read and enjoyed.  You can check these out on Mrs. VandenBerg's Library Blog.