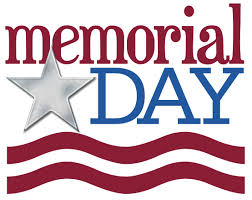 We open the school year with Labor Day weekend and close on the heels of the Memorial Day holiday.  Memorial Day is our most solemn holiday — a time for us to remember those who have served and those who are serving today and tomorrow.
We have just 8 days of school remaining to our 2012-13 school year.  The days will be busy with final assessments for June report cards, field trips, locker and desk clean out.  There will also be field days and other various end of the year traditional activities.  Your child's class blog will provide the most up to date information about these events.
Below is a snap shot of our event this coming week.  Be sure to visit BIGGBY on Tuesday from 6-9pm.  There will be several staff members serving as Barista's!
Have a great week!
Mrs. Reagan