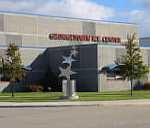 A group of Dad's who care about kids is hosting a open skate time at the Georgetown Ice Arena for all Georgetown families and staff.  This will be held on April 24 from 4:30-6:00 pm.
This group of dads has done a great job of supporting our Bustin' Thru Books project and they would like to continue involving dad's in the school setting.
To find out more, read this flyer.  Georgetown Family Skate.  We would love to see you there!