Georgetown is fortunate to have a team of parents (Elly Bainbridge and Jennifer Waters) who have voluntarily led Girls on the Run (GotR) this spring.  This program is a " non-profit prevention program that encourages preteen girls to develop self-respect and healthy lifestyles through running. The GotR curricula address all aspects of girls' development – their physical, emotional, mental, social and spiritual well-being."
Every Tuesday and Thursday for the past several weeks, they have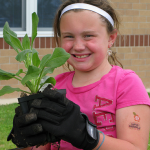 been meeting to train for the 5K GotR event.  In addition to the training, the team took on a service project for our school choosing to plant flowers outside our school and cleaning  up the school grounds, removing several bags of trash, sticks and rocks (and one broken bird egg) from the lawn and playground.   The team raised donations to purchase the flowers and potting soil!
If you have not yet seen the beautiful work they have done, check on these photos taken by Jennifer Waters.
Kudos to the team for training and completing the 5K Race.  And a warm thank you to all of you for the work you have done to keep our school beautiful and clean.
Rachel Shereda; Abigail Shereda; Lexi Keur; Naomi Gatling; Kelsey Gelder; Hope Assink; Emmy Norton – from Alward; Alison Vredevoogd; Cielle Waters-Umfleet; Happy Bainbridge; Kenadie Baareman; Sydney VanderKolk; Naomi Klooster; Emma Lamers; Maria Maldonado; Sydney Wieringa; Taylor Truman