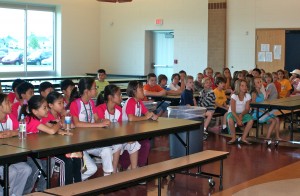 Raey Guang and Georgetown students sit on opposite sides of cafeteria, waiting patiently to be introduced to their pen pals!
Just as we got to know our Raey Guang friends, it was time for them to depart for their home country, Taiwan!
If you have been following our blog, you are aware that much energy and passion has been devoted to their journey to meet us.  We welcomed them on Thursday, June 3 at 8:30 am and we said goodbye to them at 12:30 pm today (June 4) at Meijer Gardens.
I will share more about the experience in an upcoming post.  Until then, read this excellent article by Matt VandeBunte a writer from the Grand Rapids Press.  His words sum up the experience very well and I am honored that he took the time to visit our welcome ceremony.
We are friends forever…two countries, two schools…ONE GOAL:  learning together!