Have you ever read or listened to the story The Little Red Hen?  Remember how hard the Red Hen works to get everything ready and then all her friends want to take part in the feast, even though they did nothing to help?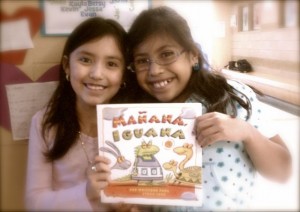 Today I had the honor of listening to Keidy and Jada read Manana, Iguana aloud to their friends in Ms. VanArkel's 3rd grade classroom.  In this story a  hard working Iguana prepares for a fiesta with no help from her friends.  Keidy speaks two languages (something we all admire greatly about her) and she shared this book to help introduce us to Spanish vocabulary in a familiar story.
Keidy and her friend Jada worked together as read aloud partners to share this book with the class…and a lucky principal who stopped in to visit!  Jada and Keidy made a great read aloud team.