Earlier this month, Mrs. Brouwer and I celebrated two our students, Shari Brouwer and Aubrey Buskard, because their works of art were selected for display in the 40th Annual World School Children's Art Exhibition.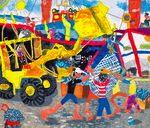 This week our artists, along with two artists from Bauer, were honored at our Board of Education Meeting.  Each artist received their certificate from China as well as a beautiful mounted certificate from Mr. Ceglarek, superintendent, and our school board.
We are honored to be represented at this exhibition — and this says so much about the quality of our art instruction and the artistic talents and abilities that our students possess.
Mrs. Brouwer has an excellent post about this event on her ART BLOG.