If you have not yet heard about Milo, I would like to introduce him through the blog.  Milo is a 9 week old cavachon-poo mix (King Charles Spaniel + Bichon and Toy Poodle).  Milo belongs to me and my hope is to train him to take on the title of Georgetown's Therapy Dog.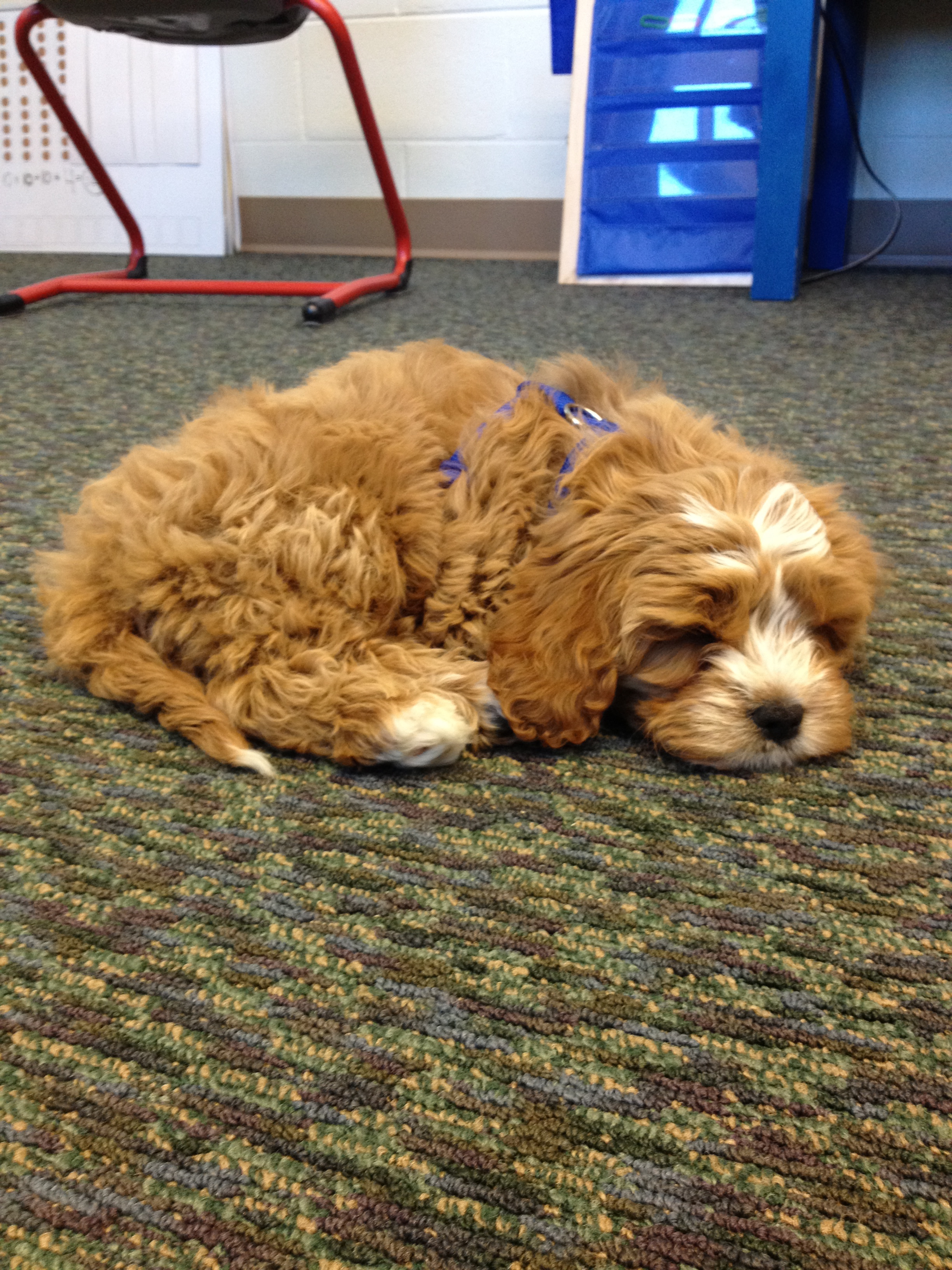 To prepare for his AKC therapy training, Milo is coming to school with me each day with the purpose of learning how to be calm and well behaved in the classroom setting.  His training begins this summer  with the goal of being certified as an AKC Canine Good Citizen Therapy Dog.   Therapy dogs are not assistive or companion dogs.  A dog like Milo is trained to provide affection and comfort. Our target would be the students and staff at Georgetown.
Any dog can be a therapy dog.  However, it is essential that this dog have a good temperament and be friendly, patient, confident, gentle, and calm in all types of situations. We want Milo to be content while being petted and handled by students.  Milo will be able to provide comfort when being read to, walked and demonstrating his skills (tricks).  
(NOTE:  Milo is not a recess dog or a classroom pet.  His role would be to provide comfort during learning times.  He is hypo-allergenic and also will not be in classrooms if a child has a severe allergy to pet dander of any kind.  As always, health and safety of our children will be the priority.)
While at home with me, Milo is learning the basics of dog training:  Going potty outside, sleeping all night, nibble on toys not fingers and  basic commands (sit, down, shake, stay, release).  At school, Milo is learning how to stay calm when bells ring, many hands pet him and sleeping while learning is going on.  To pass his first level of training, he and I must be able to do the following together:
Accepting a friendly stranger.
Sitting politely for petting.
Allowing basic grooming procedures.
Walking on a loose lead.
Walking through a crowd.
Sitting and lying down on command and staying in place.
Coming when called.
Reacting appropriately to another dog.
Reacting appropriately to distractions.
Calmly enduring supervised separation from me.
I will keep you posted on his progress.  I, and the staff, are very excited about his temperament and skills so far.  If all goes well, he will be at school next year 2-3 days per week working with children in classrooms.
Check out this collection of photos from his first two weeks at Georgetown!