I hope you had a chance to enjoy the weekend weather…either by being outside or sitting very close to an open window.  My own children, both in high school, had their homecoming weekend which meant great weather for a Friday football game
(me, cheering on the Eagles and they cheering on the Panthers), Saturday's farmer's market plus homecoming dance photos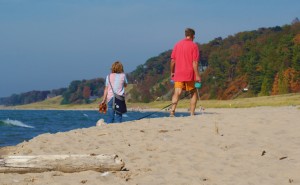 and a Sunday family walk on the beach.  I had to remind myself all weekend long that it was October NOT June!
We have the luxury of enjoying a few more days like this during the front end of our week.  By Thursday, it may feel more like October again.
This week, we begin MEAP testing and this continues through October 20.  Please make sure your children in grades 3-5 are present everyday so that they can take their tests as scheduled.   We are allowed make up testing dates for children who are ill and we will make sure that all children complete their tests before the mandatory return date.
If you would like to know more about the MEAP tests, visit the MICHIGAN DEPARTMENT OF EDUCATION SITE. These test results are a significant part of our school grade which is published in the paper and used for comparison and ranking against other schools state wide.  It goes without saying that your child's performance on these tests are critical.  We hope that one day, the state will determine a way in which we can incorporate performance results for each child throughout the year rather than on 5-8 days alone in early fall.  I am always hopeful that this is in our future because our children and teachers work hard year long, year to year!
Here is a snapshot of the week ahead.  Enjoy the weather while it lasts.
Mrs. Reagan