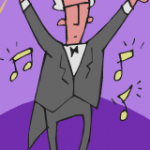 The 5th grade students have a wonderful opportunity coming up to attend the Grand Rapids Symphony orchestra. The GR Symphony offers a special educational concert open only to 5th grade students. Since we have been studying orchestras and the families of instruments in class, this provides an exciting, hands-on culmination of our studies.
This year, our concert will take place on Tuesday, March 10. It will be held at Central Wesleyan in Holland at 11:10 am.  The concert is 50 minutes long.  If you would be interested in attending as a chaperone, contact your child's teacher.  There are a few chaperone spots open.  This concert is only open to 5th grade students.  Younger siblings will be not be allowed to attend.
We look forward in sharing this musical experience with the students. Since this is a special symphony orchestra performance, we do encourage the students to dress nicely that day if possible. For more information, please check out the music blog. If you have any questions, please contact me!
Mrs. Bretz, abretz@hudsonville.k12.mi.us; 797-9797 x 22411