It was a sea of orange all over Georgetown on Friday.  In honor of Spencer, we sported Team Spencer shirts, shaved heads and walked.  Many of our staff and students raised money for the Georgetown FUN RUN.
Five staff members (Mr. Rob, Mr. Gort, Mr. Bowen, Mr. Bialochowski and Mr. Kooiker) promised to have their heads shaved if 100 students participated in the run.  We reached that goal and the school itself raised over $5,000 to help the Meyer family cover medical expenses.  In addition, several of our students shaved their heads to support Spencer in his fight against cancer.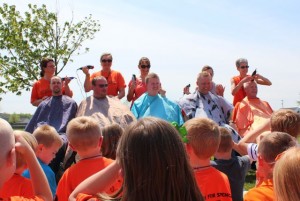 News 3 was on hand to cover the event.  You can watch it here:  Georgetown supports TEAM SPENCER    There are two more events ahead, the May 9 5th/3rd Fun Run and the May 12 Riverbank Run.  Michele Sytsma, a Georgetown parent, is organizing both events.
One of my favorite sites of the day was  watching Spencer's class participate.  Check out this line of orange kindergarteners walking for their buddy, Spence!