BLOG BITS 10/5/12………  HAPPY FRIDAY GEORGETOWN PARENTS!!!
NEWS FROM THE OFFICE………   We had another good week here at school.  Almost seems like we never left, everyone seems to know exactly what they are supposed to be doing : )  A little note from the Administration Building……..  we as a district raised a little over $4000 at our HEF Fun Fest last Friday night before the Varsity Homecoming game!  Way to go Hudsonville!!  With this money teachers are able to apply for mini-grants for items/programs that they feel will benefit the students.  
One more thing……. as much as I do NOT like having to tell all of you this…… we have been seeing a fair amount of students with the stomach virus already.  So be aware of this and make sure to remind your child to be washing their hands regularly.  As a reminder we like students to be fever free and not having any stomach symptoms for 24 hours before they return to school.  
If anyone would be willing to donate Clorox/Lysol wipes to the office that would be greatly appreciated!  We go through a lot of these as we wipe down a number of things in the health room and phoneswhen the students are sick.  
SCHOOL CALENDAR CORRECTIONS…….. Please see the following update that shows Calendar Corrections for the district.  A couple of the dates do affect Georgetown!!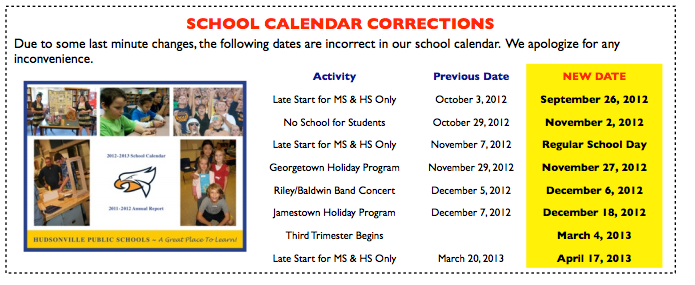 LIBRARY NEWS………   We have enrolled Georgetown Elementary in the Double JJ Resort Reading Program.  This program is used in conjunction with the Pizza Hut Book It Reading Program.  When your student's monthly reading goals have been met they will turn in their reading calendar for the Pizza Hut Book It program to their teacher.  In return, they will receive their free pizza coupon to Pizza Hut and a certificate to Double JJ Resort for either One Gold Rush Waterpark Day Pass or One Snow Tubing Hill Pass.  Georgetown understands the importance of reading and LOVES to reward our students anyway that we can.  If you have any questions, please direct them to Mrs. VandenBerg in the Library.  
P.E. NEWS…….. TURKEY TROT…….… REGISTRATIONS ARE DUE MONDAY!!!! Turkey Trot is coming OCTOBER 23!  Registration forms came home this past week, they are due by OCTOBER 8!  Check out the P.E. Blog if you need another form, there is a link there for the registration form.
COMMUNITY NEWS……….. THE HEAVENLY HARVEST PUMPKIN PATCH/FAMILY FESTIVAL……..  Don't miss the Heavenly Harvest pumpkin patch and family festival coming to Hudsonville Congregational U.C.C.  4950 32nd Ave in Hudsonville.  Choose the perfect pumpkin and other harvest decor from an amazing selection from October 17-31.  The patch is open Monday- Friday from 12-8pm and Saturdays from 9am-5pm.  Special family events on Saturday, October 20 and 27.  Proceeds from the sale will benefit the church's local mission projects and other church ministries.  Bring the whole family!
THE WONDERS OF THE WORLD OF PARENTING…… featuring Dan Seaborn.  A morning of inspiration and encouragement for parents of college, high school, elementary, and preschool aged children.
Saturday, October 6, 2012, 9 a.m. to 12:00 p.m.  ResLife, 5100 Ivanrest Ave., Grandville, MI 49418 616-534-4923 $15.00 per person or
$25.00 per couple.  Pre-registration appreciated.
Questions? Contact Sandy North at sandyn@reslife.org or 616-249-3723  Child care will not be provided for this event.
HUDSONVILLE CUB SCOUT REGISTRATION NIGHT……….  This will be held on Thursday, October 18 at 6:30pm at Riley Street Middle School.  Registration will be $15.  This is for boys in grades 1 through 5.  Please read the attached sheet for more information……  Cub Scouts
CITY OF HUDSONVILLE URBAN HAY DAY……….. The orchard experience is coming to the City! Join us for the first ever City of Hudsonville Urban HayDay on October 27, 2012 from 12-5pm.  This unique event will feature a Hayride which will start at Gemmen's parking lot and travel through the
heart of downtown Hudsonville to a marketplace & fall ball which will be bustling with activity.  The hayrides will drop you off at the marketplace & fall ball which will be full of free activities, crafts, and games, vendors & crafters, and delicious food.  The orchard experience won't stop there though. Hop on a bus to take a tour of Hudsonville, stopping at several event stops throughout town which will feature pumpkin bowling, pumpkin carving demonstrations, live animals, and cookie decorating, among others. The whole family will find something to entertain and excite at this fun event where we will bring the orchard to the city.  For extra excitement, you can take part in a Costume walk & contest hosted by Grand Valley Health Plan which will offer prizes for the best family, adult, and kids costumes. The walk will depart from the Marketplace & Fall Ball at 11:30am, but will bring you back just in time for the start of the Urban HayDay!
For updated event information, including maps and event details, visit http://
business.hudsonvillechamber.com/events/details/urban-hayday-638 or call Michelle Fare at 616-662-0900.
HUDSONVILLE COMMUNITY ED…………  Hudsonville Community Education has many offerings for your kids this fall.  For more information or to register, please visit www.hudsonvillepublicschools.org or call Rebecca at 669-7747, ext. #3.
Boys Wrestling ~ Grades K-6
After School Tennis ~ Grades PK-5
Learn to Ice Skate ~ Ages 3 and up
Intro to Hockey ~ Boys/Girls w/skating experience
Home Alone Class ~ Ages 9-13
Learn to Skate ~ Ages 4 and up
Golf Lessons ~ Grades 1-8
UPCOMING EVENTS
10/9-10/11 ~ MEAP Grades 3-5
10/12 ~ ECSE Field Trip to Post Family Farm
10/16-10/17 ~ MEAP Grades 3-5
10/17 ~ Marco's Pizza Night
10/23 ~ Turkey  Trot
10/29-11/1 ~ Raey Guang Visits
10/30 ~ Picture Retakes
Have a great weekend!!
Mrs. Nurenberg  : )