Ever wonder what teachers do to be silly?  I have!  To help us all find out, I invited the teachers to all write posts this month about something silly they did over the summer.  You can visit their blogs to find out what it is they consider silly.  If you don't see the post on the front section of the blog, simply type the word silly into the blog search area.
My silliness usually shows up when I am around really young children and dogs.  My dog, Cooper, brings out some of my silliest behavior, which I think he likes a lot.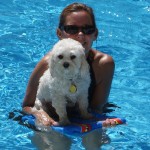 This summer, I decided it would be fun to teach Cooper how to be a "SURFIN' DOG."  Because he only weighs 12 pounds, I used a small kick board.  It was easy to teach him how to walk onto the board, but he had absolutely no intention of being pushed across the pool.  His idea of surfing was to cozy up to me and be gently rocked back and forth.  It was a silly idea…but it made for a great picture!