This school year, Georgetown will add a fourth special to the rotation.  For many years we have had Art, Music and PE.  The fourth special rotation will be STEAM STUDIO – an educational approach to learning that uses
            Science, Technology, Engineering, the Arts and Mathematics
as access points for guiding student inquiry, dialogue, and critical thinking.  The end results are students who take thoughtful risks, engage in experiential learning, persist in problem-solving, embrace collaboration, and work through the creative process.  These are the innovators, educators, leaders, and learners of the 21st century!
Our teacher for this special is Mrs. Angela Totten.  She is returning to the West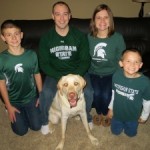 Michigan area after teaching and raising a family in North Carolina.  We're thrilled to have her on our staff …. and excited for our students who will learn how to be creative, innovative thinkers while immersed in science, technology, engineering, arts and mathematics.
Mrs. Totten's blog is linked on the left sidebar under SPECIALS.  Please visit her during Gr 1-5 Open House this week Tuesday 6:30-7:30..   She will be in her STEAM STUDIO (room 410 — the classroom in the front of the building and former K art classroom).
OPEN HOUSE REMINDER
Grade K:  Monday 8/29 6:30-7:30
Grade 1-5 Tuesday 8/30 6:30-7:30