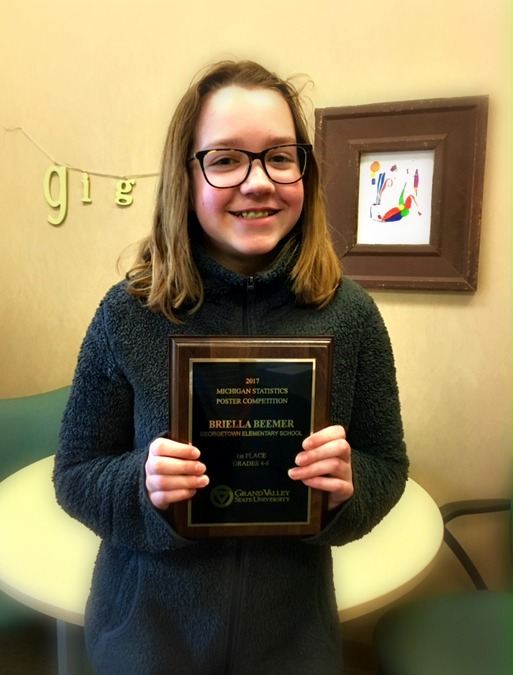 Dear Briella,
I am writing to congratulate you for your FIRST PLACE AWARD in the GVSU Gr 4-6 Statistic Contest.  Several students from all over the state
participated in this competition, including other students from Georgetown Elementary.
I believe it is important for our school community to recognize the work you have done to earn this statistics award.  This is a challenge you took on that required thinking, writing, problem solving outside of the school day.  Your  question, "Does your gender or learning environment affect what you enjoy most in school?",  required you to reach out to two elementary schools to seek permission for a survey to be administered to students.  Once you received permission, you developed and executed a survey, compiled the results and published the statistical data in the form of a  poster (pictured above).
We, your Georgetown family, are honored to have you represent us in the greater community and we are proud of your accomplishment.  I hope that your work serves as an inspiration to future Georgetown learners to explore the world of statistics…asking questions, collecting and analyzing data and using this to make informed decisions/recommendations.
Congratulations, Briella!
Mrs. Reagan and Georgetown Staff & Students