We had our final holiday party this past week – Valentine's Day.  That's a milestone for teachers each year – it means we are more than half way through the year and wonder how we are going to get everything accomplished to make sure our students learn their grade level material before summer begins.   We are practicing mindful breathing … and reminding one another that we feel this way every year!
Thank you to everyone who has sent in kleenex, hand santizer and wipes.  Every classroom has
students who can be described as feeling sort of yucky to coughing/sneezing yucky to face down on the desk yucky.  We are FREQUENTLY cleaning door handles, desk tops, counters, etc.  We appreciate when you keep your child home until they are better.  Sending them back too soon with compromised immune systems exposes them to more viruses to catch and get sick again.
Our school PTC is trying something new to help raise money for our PTC.  One of our school family member's owns RW BOND & Son Family Butcher.  They have offered to donate a percentage all purchases made Feb 21.  Hours:  10 am-6 pm ;  Address:  4365 Canal Ave SW, Grandville, MI 49418  Please try to visit RW BOND on 2/21 to buy your meats and support our school.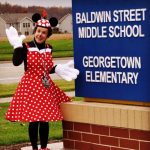 Finally, many of you have asked about Mrs. Rhonda Fabbro, our school crossing guard and kindergarten parapro.  Recently, she was diagnosed with colon cancer and she is still recovering and getting stronger so she can go home and start treatment.  If you'd like to leave her a message of hope and love, visit her caring bridge page here.
We have interesting week of weather ahead:  Rain on Monday and Tuesday with damp, mild weather the rest of the week.  Keep this in mind as you dress your child for school.
ENJOY YOUR WEEKEND…and here's to next week!  Mrs. Reagan