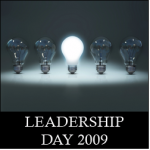 Today is LEADERSHIP DAY 2009.  This is a day in which Scott McLeod, a professor at Iowa State University,    invites educators to share why and how we use technology in our careers.  Earlier this week, I blogged about being a principal who twitters. Those of you who read the post learned that I am certifiably a 'tech geek'.  It is important to note that I am also NOT very 'tech savvy'.   For example, I struggle to define critical technology terms (gigabyte, modem, html, css) and certainly do not know how to rebuild a hard drive.   I have been smart enough to call on technology experts when needed:  I know the extension numbers to the district Tech Office by heart — and when they can't be reached, I have utilized the brains and heart of John Lawrence.
How specifically do I use technology on a daily basis as the learning leader of Georgetown Elementary?
As a learner, I cannot imagine not utilizing technology as a tool to create documents, problem solve and communicate with others via blogs, nings, wikis, twitter, and email.
As a building administrator, technology allows me to function more efficiently and accurately (hand held computer, laptop, web 2.0 tools to create, sort and examine data).  Sometimes, technology tools make me look more artistic and creative than I am!  If I use my tech tools well, I have additional time to build relationships with parents, students and teachers.
As a learning leader, technology allows me to do what is essential – promote independence in teachers and students.  I want the teachers to empower their students in technology with the same passion they use to model, guide and release reading, writing, and math—and all content areas. Technology is a learning tool that promotes independence, invites discussion, and grows a community of learners in exciting new ways.  Therefore, I am committed to helping teachers find the right tools to use at the right time with the right learners.
Why am I so passionate and focused on technology when there is so much that competes for my attention on a daily basis?
Access to amazingly simple and free technology tools have transformed the way I communicate, problem solve, share, create, learn and lead.  This did not require me to be tech savvy…it required me to be tech interested.
I  believe that technology tools will not by themselves create great learners, teachers or leaders.  I am convinced, however, that our best and brightest will be the better 'tech' equipped and capable at learning, teaching and leading NOW and in the future.
For those who would like to begin the journey of discovering more about technology tools and how they are used in education, I would encourage you to:
Read blogs by teachers, students, administrators.
Once you have read a blog post, leave a comment for the blogger.
Join twitter.  Find followers in the area of educational technology.  Follow them, ask questions, share.
Begin a blog of your own and invite others to read your posts & leave comments.  There are many free blog options available on the web.  I am partial to Edublogs due to their great support, both tutorials and problem solving.  Kudos in particular to Sue Waters, someone who has tutored me from Australia!
Learn about web 2.0 tools by following these 23 Simple Steps
Finally, if you are interested in following the many blog posts by educators, type this phrase into a  twitter search bar:  #leadershipday09.  You can also follow Scott McLeod's Blog.
Thank you for sticking with this post and reading my passionate thoughts about technology in education.