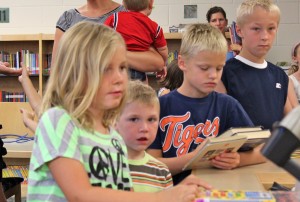 Our library will be open on Tuesday, July 17 from 10 am to 12 pm.  Please come to check out books and to say hello to these cool people:
Mrs. Iwema and her adorable son, Jacob.  Mrs. Iwema teaches kindergartnen.
Mrs. Bast, our incredible reading teacher.
Mrs. Flory, one of our third grade teachers.
Mr. Rob….the best custodian in the ENTIRE WORLD!