Many local businesses offer school rewards (% of purchase goes back to Georgetown) to support our school programs.   We'd like to encourage you to remember to do this during your busy holiday shopping season.  Every penny we earn back supports our the many school and family initiatives we have in place here at Georgetown.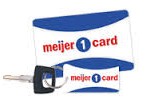 MEIJER:  
Create an rewards account.
    You can connect this account to your Meijer credit card.  If you do not have a credit card, you will want to register for a
Meijer 1 Card
.  This will allow you to donate 1% of your purchase to our school.  The card will be associated with Georgetown based on the pre-assigned code.  Our code is:   402529  The card takes three weeks to process and is delivered to your home address.
TARGET:   To participate in the
TARGET REWARDS
program, you must have a TARGET DEBIT or CREDIT card.  If

you do have this card, please add our school to your account.  Each time you make a purchase, 1% will come back to our school.
Thank you for doing all you can to support our school!
Mrs. Reagan and the Parent Club