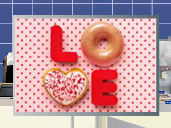 The money goes toward a fantastic cause:  5th Grade Celebration Fundraiser. On Thursday, February 17, you can purchase a donut at school.
And…..these aren't just any donuts…their KRISPY KREMES!
These specialty GLAZED donuts can help you kick off your long winter break!
Complete this order form so we have your donuts ready on Thursday, Feb 17:  Georgetown 5th grade donut
$1/glazed Krispy Kreme Donut
$7 for One Dozen Donuts
$14/Partner Card = 12 dozen donuts.
Partner Card: $14/card which allows you to pick up 12 dozen donuts at any Krispy Kreme location! For the price of two dozen…you get 12 dozen! Best Deal!