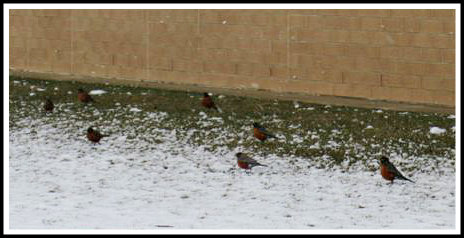 Mrs. Brouwer and her fifth grade class spotted a flock of 20 robins searching for worms on our 4/5 playground this week.  As we brace for a bitterly cold week, these robins are here to remind us that spring will come!
Another sign of spring:  Our 5th graders travel to Baldwin Middle School to tour the building as future 6th graders.   Some of these students (18) have been with us for seven years and the majority of them six year.  I have learned that even for those who I have known for a shorter time period, it is exciting and sad to see them mature into the next stage of their educational career.
We are fortunate to have our 5th graders move onto one of our outstanding middle schools.  Both of our middle school staffs, Riley and Baldwin, prepare well for our students in terms of courses, climate and culture.   I am truly excited for all our students…they are ready!
Have a great week – and stay warm!
Mrs. Reagan