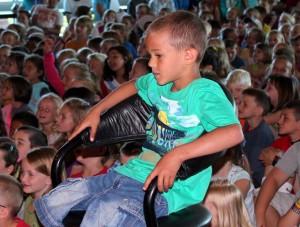 The Hockey Game, By Mason DeYoung, (Kindergarten – Mrs. Estefan's M/W Class)
We are going to the Griffins hockey.
We are going to our seats.
I watched the hockey game.  Griffins won 2 to 6.
Jumping off the Deck, Kaycie Lawrence, Mrs. Woodring's First Grade
This story is dedicated to my brother because I love when he tells me to do new stuff.
On a warm sunny day in summer my brother dared me to jump off the deck in my backyard. I said, "uh-oh". I was scared. I was really scared. I love when my brother told me to jump in the pool then…I finally jumped off. SPLASH! I jumped into the pool. I had a big smile on my face. I was so happy. I love when my brother told me to jump into the pool. " I did it, I did it" I screamed. I was so happy. My whole family was proud. I was so so so happy. I love when my brother told me to jump into the pool.
About the Author
My name is Kaycie. I am in first grade. My first story was written when I was four years old. I was born in 2005. My favorite color is blue. My family is my brother, mom, and dad.
Going to Medieval Times, Aidan Klein, Mr. Jurewicz, Grade 2
We were in Chicago.  We were going to Medieval Times.  We were there and there were shields on the wall. We were in line to get a crown and to get inside the castle.  I wanted a blank crown and we got it!  I was with my mom, dad, Nora, Ella, Jackson, Alley, Jackson's mom, and dad.  That was the people who went.
We were finely in the castle, but not in the arena yet.  My dad was getting me a black Medieval Times cup (we already have a gold one.)  They were selling real metal swords for $200!!!
We were finely in the arena and they serve each person a whole chicken!  They also serve huge french fries, tomato soup, bread, dessert rolls, and pop!  There were handles on the soup bowls and no silverware!
They did full metal jousting!  It was awesome.  We were the black and white knight.  We were also voting for the red knight and the black and yellow knight.  The knights we weren't voting for were the green knight, red and yellow, and the blue knight.  We didn't like them.
They also had a sword fight with real metal swords that make sparks!  When the knight jousted they had to put nets down because pieces of long wooden spears fly everywhere.
At the end they pulled the bad guy back and there was a guy with a huge wip and it was to frighten the bad guy and it was like CRACK!  The end.
Dance Class, By Allie VanderWall, Mrs. McDonald, Grade 3
"Creeeeeeeeeek" the door grumbled as I enthusiastically opened it. It was a big crisp one and as brown as a steaming hot bowl of oatmeal. I inched into the room opened my backpack and jerked out my black tennis shoes. I tied them anxiously to be done (because I hate tying my shoes) and I talked to my teacher Miss Stephanie.
"I have something for you," I stated looking everywhere in my backpack. I couldn't find it anywhere. "Oh no!" I thought.
"I'll bring it next week. It is instructions to see me at the talent show," I said excitedly.
"Oooooohhhhh," replied Miss Stephanie.
Then I walked onto the dance floor and found my spot.
"Okay let's do it with the music," yelled Miss Stephanie. I waited at the side of the room while Mindy was doing her fast part. All of us joined in to the dance.
I got really tired especially because it was Hip-Hop. When class was over I had a break. I talked to my friends: Hadley, MaKenna, and Julieanna. This is what we always did. After our forty-five minute break, class started. I tugged out my jazz shoes from my dance bag and put them on.
"Let's learn our combination," Miss Diane suggested when everyone was ready for Lyrical. "One and…two…and…three…and…four, five, six, seven, eight," Miss Diane said as she modeled some dance moves. "Now you try," ordered Miss Diane.
We all did as we were told and did the dance. Miss Diane stood in front and did the dance with us. I didn't get it right away.
"Questions," asked Miss Diane. I raised my hand nice and high on my tippy toes.
"Will we do it across the floor?" I asked. She nodded. We did it across the floor.
After practicing about four times, right side…left side…right side…left side…class was over. I quickly walked to the lobby, slid off my shoes, and put them in my bag. I grabbed my outside shoes and put them on. I couldn't wait to get home to read. I hope that I remember to bring my instructions to Miss Stephanie next week.
Meeting Michael Jordan, By: Cam Fortuna, Mr. Bowen's 4th Grade Class
As I walked around the United Center, I desperately looked for a way to get in.
As I saw all the people handing in their tickets to get in the arena, I saw my opportunity…..  I needed to get in the Chicago Bulls game. There's a little hole, but the security guards are everywhere. What am I going to do?  I see the back door, so I hurried to it.As I opened the back door I saw the biggest court ever.  Fan's were screaming everywhere.  "The game is about to start," I said as I walked around.  There's my chance I yelled.  The security guard spotted me and yelled to the guard " STOP THAT KID."  I started running into the tunnel of the locker room. "Phew, I got away, and then all of a sudden another guard came from inside the locker room and grabbed me. I thought to myself the security guards must of called it out on the walkies.  So, the security guards are taking me to the security office.  As the two guards are walking me down the hallway, I think of plan B.  Sneakily, I kicked on of the security guards in the knee.  The guard begins to fall and swings a punch at Cam and hits the other guard in the gut.  I ran to a bench and flip it over to hide for cover. Both guards start fighting each other, the media, and the fans all come running down the hall to see what all the commotion is all about.  Other security guards arrived at the scene for back up support and became a part of the fight. It was complete madness watching from behind the bench everyone punching and kicking one another.
Suddenly the the buzzer went off,and I looked up at at the clock, it  is half I thought to myself.I saw the Bulls coming down  the  hall  to the locker room, so I
made my next move. With all the fighting still going on I know I could easily sneak back to the locker room.  I scurried down the hallway past the fight and into the locker room!  Completely relieved, "I made it in!"  Now to find Michael Jordan.
I heard loud voices and followed the sound in the locker room. The Bulls players are here and I see Michael Jordan.  I walk up to him slowly like I was in a trance.  I opened my mouth, trying to spit the words out to talk to him.   After a few seconds, I finally was able to ask him for his autograph.  Michael Jordan said sure I will give you my autograph after the game. He sees I don't have a pass, and it was time for the players to go back to the game.  I was walking out of the locker room with the team, and the security guards spotted me!  They say, "Get Him!" Running towards Cam.  Michael Jordan yells stop, and says," It is okay he is with me."  The guards backed off and walked away.
I was thrilled to be able to watch the rest of the game court side.  The Bulls won the game 102 to 92.  Michael Jordan saw me jumping up and down court side,  and came  over to me with the game ball.  Then he had the entire team sign the ball.  I was in utter amazement and so very happy!!!!!!!!!!  I thought to myself that everything I went through today was so worth it!
Spicy Pickle  by Sarah Montroy, Mrs. Bouwens' 5th Grade Class
As I opened the big doors to the Mexican restaurant, I jumped all around. I ran straight to the little toy machine.
"Mom, can I get one?" I asked.
"Not right now Sarah," Mom told me. The waitress showed us to our table and asked what we wanted to order. All my family members ordered, then it was my turn.
"I will have the nachos," I said. When I was done ordering the waitress left to give the cooks our orders. We waited for a little while before anything came. When all our food came I looked at my plate. There in the corner was a small green pickle.
I looked at it for a second and then inched my hand to the plate. I picked up the small pickle and put the whole thing in my mouth. A couple of seconds later my mouth was on fire! It felt like a bomb exploded in my mouth.
"That was a spicy pickle," I panted looking at my mom. She broke out laughing! Then everyone started laughing.
"Sarah, I think that was a jalapeno pepper," Mom laughed.
"I thought it was a pickle," I told her.
"Drink some milk. It will help. I don't know why they would put a jalapeno on a kid's plate," Mom told me. So I drank and drank because I would have done anything to get that burn out of my mouth.
After drinking a lot of milk, my mouth stopped burning. My family stopped laughing too. Now I know never to eat something you don't recognize.